No grinder, No Problem! But why on earth wouldn't you have one?! Someone might ask. Well, you're probably at a concert or a festival or out of town, you forgot to bring yours and your Airbnb just doesn't have a grinder ready for you. Well, it's not like a coffee table is always available wherever you are. Below are a few tips on how you could get your  stash grinned and ready. This list comes in no particular order and should not be taken as first to be the best and the last as the least.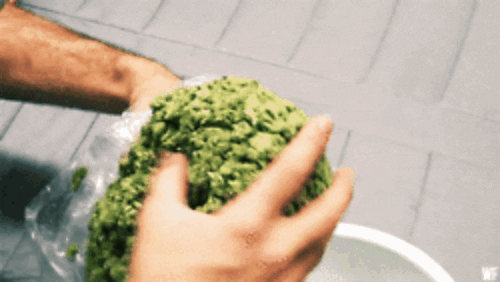 THE HAND
Oh God! Thanks for our Hands! Our Hands are pretty much reliable grinders, although some may cause sticky and smelly hands but there's water and soap for that. All you have to do is place your weed at the palm of your hand and use your fingers as the grinder. Easy eh? Disclaimer: There are some that say that all this do is lose all the THC Crystals, but when all else fails, what is there to lose, right?
THE SCISSOR-SHOT GLASS TANDEM
Scissors are still a tool but, it's easier to find a scissor than a grinder right? The coffee shop server might have one, The librarian or your seat mate might have one, your Airbnb host would have one, YOU would have too! And even a ticket handler at any concert or festival may have one (though probably be hesitant to lend it to you, you know sharp objects are commonly not allowed inside so you might have to work on your charm.) Possibilities are endless when it comes to finding a scissor. How to do it? Place the herb inside the shot glass and start cutting or trimming the herb into tiny pieces until you get your desired cut or grind. If a shot glass is not available, you can do it as well using paper as your base, just be careful not to cut through the paper.
THE IMMORTAL MORTAR AND PESTLE
Yeap! Almost every household has these tools. So go on and don't be shy, ask if you could borrow their mortar and pestle for a while and get your freak on. Please note that this works best for dry herbs.
THE TRUSTY (AND PROBABLY CHEAT) COFFEE GRINDER
Okay, this might be cheating, but still. A coffee grinder is a suitable alternative to your regular herb grinder, so if you're feeling stingy or just don't have the money as of yet to buy a grinder for your herb, your (or maybe your neighbor's) trusty coffee grinder will do. Just remember to wash it thoroughly before and after use to avoid caffeine and weed mix up. One second thought, that can be a good idea for some, if you know what I mean.
THE KITCHEN KNIFE AND CHOPPING BOARD TEAM UP
Feeling cheffy? Go get your knife and chopping board and start chopping. Though this procedure would require more effort but hey it still is a viable solution to your grinder absence dilemma. Chef-chopping-skills would be a plus!
THE BLENDER
This might not be the best option especially when it turns the herb into powder but it works pretty okay with a large stash and if you want to grind a bunch of it without killing your arms off with the knife and chopping board more so with the Do it Yourself shaker.
THE DO-IT-YOURSELF SHAKER
What will you need? An empty pill bottle and a coin, or dime or penny (whichever you want it to be) Place your herb inside the empty pill bottle and top it off with the coin, make sure you don't fill up the pill bottle leaving enough space for the coin and the herb to shake and grind. How do you do it? You just shake the pill bottle as long as you get your desired result. Money is dirty, but of course, you could always disinfect the coin by dipping it in alcohol or whatever disinfectant you have available.
Let's just admit that grinders are heaven sent. We can't just avoid or disregard them because they save us a lot of time and energy. But just in case, these tips will come in handy when you need them. Though personally, I wouldn't suggest that you rely on these methods for the rest of your smoking lives. For your own sake please purchase a grinder as nothing, yes nothing, beats the actual thing when it comes to getting the best out of your herb. Chill Waze offers a variety of quality grinders that will suit your taste and won't hurt your pockets. We can also offer you pocket grinders that are easy and light to bring with you wherever you go. So yes, take it easy, we got your back!
By Paola Lee Aragones